Welcome back shoe folks. What a busy week it has been...as we gear up for a frantic, by shoemaking terms, May! Here's what's going on.
On Monday 4th May our
Pattern Making for Bespoke Shoes
course begins in New York under the eagle eye of bespoke shoemaker Jesse Moore of Brooklyn Bespoke.
On Tuesday 5th May we are setting up our first ever art installation. We are showing as part of
Make:Create
an exhibition realised by
QEST
and
Griffin Gallery
inspired by the inaugural London Craft Week. Working together with mixed media fine artist
Rosemary Munro Kerr
we are creating a multi-sensory experience in
The Crypt Gallery, St Pancras Church, Euston
.
On Wednesday 6th May we will be attending not one, but two opening nights for London Craft Week and Make:Create - can't wait to enjoy the parties!
On Thursday 7th May we are showcasing hand lasting, hand welting, thread making and heel building in
'The Window on Vigo Street'
at Gieves & Hawkes, 1 Savile Row. All being well we'll be live streaming some of the making on Twitter so please keep an eye out for us.
On Friday 8th May the weekend of Summer Open Studios begins and we're very much looking forward to welcoming friends, old and new, to W9 our new studio at Cockpit Arts.
Then we're off to New York for our intensive shoemaking course taking students through the 200+ steps of English hand welted shoemaking. It's great timing, as
Brooklyn Bespoke
's, Jesse and Marika, have just been filmed for
A Craftsman's Legacy .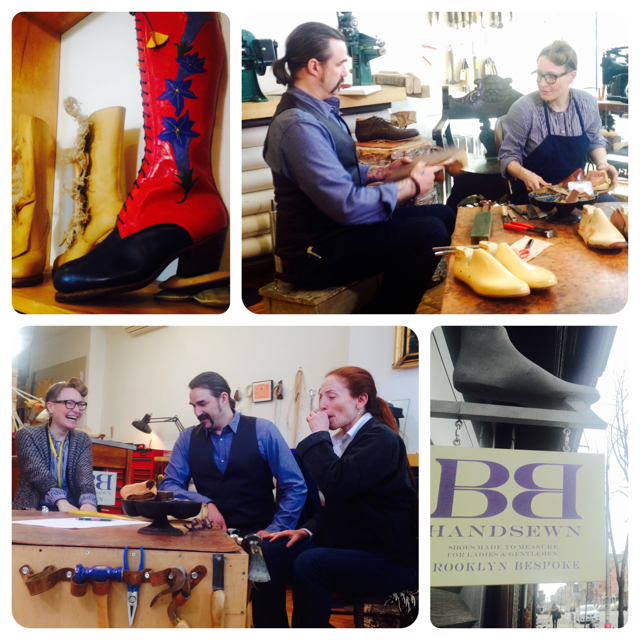 Courtesy Jim Wagner
(We're feeling rather delighted for them, as the programme's researcher contacted us for recommendations and we of course we suggested them, D.W. Frommer and Lisa Sorrell! If only the BBC or Channel 4 would make a series like that here!)
The week ended on a lovely note with a delicious box of goodies from Sonrisa, the young shoemaker who visited us from
Old Salem, North Carolina
. What a treat, thank you, and we can't wait to hear how the new shoes come out.
Until next week, happy shoemaking!