This week saw a great example of social media working in a good way. Now many of you might think that all things online are an alien concept in the world of hand stitching, hammers and heritage, but a life crafting can be quite solitary and so we're huge fans of distraction...(well I am)!
Today's lovely distraction was an interview with Mayfair's own glossy magazine, The Mayfair Times. (See the magazine's lovely new look below). Pictured above are Mr.
Ducker (looking suitably sartorially superb) with the delightful Ms Lorna Davies of The Mayfair Times in the new Gieves' room at No.1. (We're very proud to be included alongside fellow Crafted alumni in a special Bespoke April issue of the magazine, but more of that next week).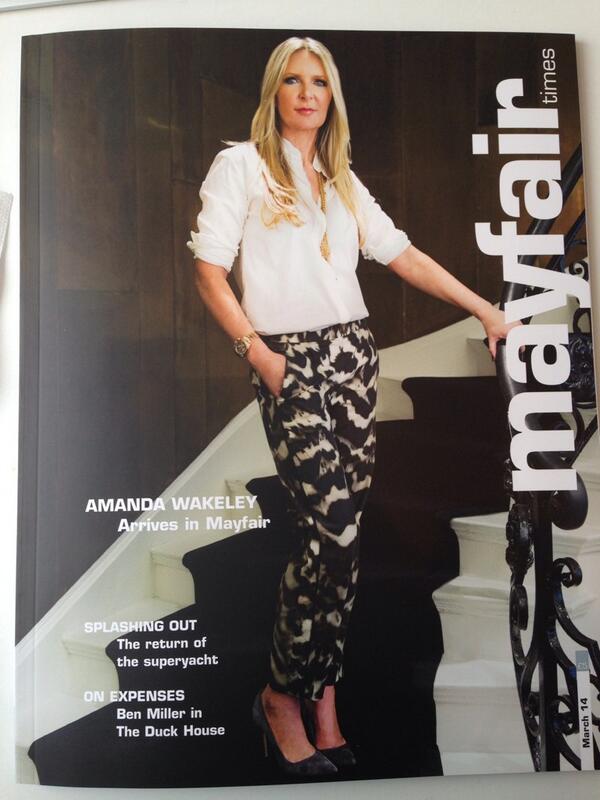 But, back to my story. Earlier this week, when I invited Facebook friends to follow our carreducker Facebook page, I was amazed to hear from an old school friend now living in New Zealand. She Facebooked to say that she had just been reading about us in the Robb Report! How? Well, the Editor-in-Chief of the Robb report had been in her office, had been talking about us and then left her a copy of the magazine! So sometimes social media can help to make the world feel a little cosier and friendlier! Can't wait to see the article and thank you Ali!
But off the Cloud and back to planet earth for Part II of our coverage from the Independent Shoemakers' Conference. Another stand-out demonstration was by David Xavier who reminded us of how we used to make a mean forme from the last with kraft paper...and just how easy it is (well David made it look easy, but he has been doing it for a long time).
Holding the paper perfectly still against the last with one hand, David then quickly folded the paper to mark the centre back and centre front. with a pencil he then marked the vamp point and back heel height and using his trained eye, drew in the top line and style lines.
Once he had the mean forme, David was able to use a trace wheel to transfer the styles lines and edges to create the necessary pattern pieces.
He also showed us how to make a standard and pattern pieces for a court shoe or pump...a style of shoe that has had me scratching my head in the past when I've been trying to work out why my pattern wasn't working. Anyway, his approach soon settled my doubts and I now feel confident enough to give my pattern making efforts another go.
The day closed with a fascinating talk by orthopedic shoemaker Martin Kistner, about the many different types of measuring equipment available for fee from foam impression boxes and carbon imprints to electronic footprints and 3-D scanners. Despite having tried many of these new tools, Martin still prefers to rely on the combination of his experience, a pencil and paper and a carbon imprint of the foot. I agree. Far better to grow your experience and to use the tools that work for you, than to keep trying new techniques and master none.
Martin's approach is 'Foot whispering'. He obviously has a keen understanding the structure of the foot and believes that many foot problems stem from an imbalance in the peroneal and medial muscles on either side of the foot. He feels the customer's feet and observes their posture and perambulation and then creates orthotics accordingly.
Sadly I don't have a picture, but the highlight for me was the photo Martin showed of his workshop...bliss! Organised, clean and with purpose-made furniture on wheels...I can but dream.
Until next week, with London bathed in sunshine, we wish you happy shoemaking!